Meet Our Team!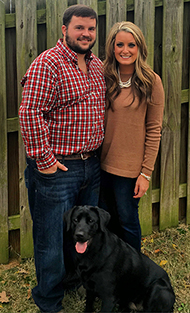 Dr. Matthew Reith
Born and raised in Fort Smith, Dr. Reith always knew he wanted to attend the University of Arkansas. After his freshman year of college he knew that he wanted to call Northwest Arkansas home. During his college years he spent many hours outside the classroom engaging in every aspect of dentistry possible. He volunteered at the Free Health Center in Fayetteville every Thursday for 3.5 years and worked with many great surgeons and dentists. He was a member of the University's Pre-Dental Society. He also worked for an Orthodontist for almost a year before going to dental school. Upon completing his Bachelors of Science Degree in Biology, he attended the University Of Tennessee Health Science Center College Of Dentistry in Memphis, Tennessee. For 4 years, he not only completed all his didactic education, but he also spent many hours researching the many different treatment capabilities that the modern dentist has at his or her disposal.

While in Dental School, he married his beautiful wife, Emily. Together they have two dogs, Remi (the black lab) and Ivory (the white Chihuahua) who keep them constantly busy. They enjoy spending their time cheering on the Razorbacks, being outside, and spending time with their families and friends. Dr. Reith is also an avid duck hunter!


Dr. Robert Beyer III
A native of New Orleans, Dr Beyer is a graduate of the University of New Orleans where he received a Bachelors Degree in Biological Sciences. He then moved on to receive his Doctorate in Dental Surgery from Louisiana State School of Dentistry. Afterwards, he completed a two-year General Practice Residency at Charity Hospital in New Orleans. During this residency he spent time perfecting many aspects of dentistry, including oral surgery, prosthodontics (crowns and bridges), and sedation. Upon graduation he worked 6 days a week in three different offices to better tone his clinical skills. During this time he met his wife, Shannon. Dr. Beyer has spent a large amount of his free time taking advanced education classes to better serve his patients. In doing so, he achieved a certificate of Fellowship in the Academy of General Dentistry. This means he took over 500 hours of continuing education! Combine that with his over 30 years of experience, and there's not a lot Dr. Beyer hasn't experienced as a dentist.

Away from the office Dr. Beyer and Shannon have 3 boys – Brandon, Nicholas, and Joshua. Dr. Beyer enjoys playing tennis, spending time with his family, and being an active member of St. Joseph's Catholic Church.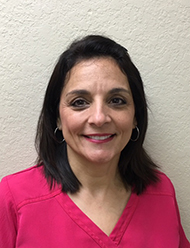 Shannon – Dental Hygienist
Shannon is a Registered Dental Hygienist and is a 1989 graduate of Louisiana State University School of Dentistry. Shannon was born in New Orleans and moved to NWA in 2005 following Hurricane Katrina with her husband, Dr. Robert Beyer III, and their three wonderful boys. As a dental professional, she enjoys and is active in continuing education classes, as well as local Dental Hygiene study clubs. After 25 years of practicing dental hygiene, as well as working in and coordinating all office positions, she still prefers educating patients about their oral health. She also strives to ensure their dental experience is always pleasant and comfortable. She provides a personable relationship with all her patients and really enjoys the challenge of treating special needs individuals. Shannon loves spending time with her family, and is extremely supportive in her children's education, sports, and other activities. She is also a member of St. Joseph's Catholic Church in Tontitown.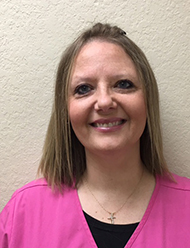 Nanette – Clinical Assistant
Nanette grew up in New Jersey. She moved to Arkansas 26 years ago. She has been married to Billy for 11 years. Some of Nanette's hobbies include reading, music, and spending time with family and friends. She has been a Registered Dental Assistant for 33 years. She enjoys taking continuing education courses to keep up to date on the latest dental materials and techniques. One of the things she enjoys most about working in the dental field is how excited patients are to show off their new smiles. Her goal is to provide each patient with the very best dental care in the most supportive and nurturing manner possible. She enjoys working in our office due to the fact that it is a small, family friendly atmosphere that will immediately put you and your children at ease. As part of our staff, she will help you feel welcome and comfortable as we provide the highest standard of personalized dental care in the most gentle and efficient way possible. She wants your family to enjoy a happy, beautiful smile their entire life and she enjoys seeing that smile while you're still in our office.
Mary – Front Desk
Mary is originally from California. She grew up in Missouri and moved to Arkansas 17 years ago. She enjoys being with her children and grandchildren. Her hobbies are water sports, reading, theme parks, and spending time with family and friends. Mary has been in dentistry for 32 years. She started as a Dental Assistant, and then 18 years ago decided to pursue her career as a Front Desk Administrator. Mary understands your insurance benefits and can help with financing to get your mouth healthy and disease free. She is also great at answering any questions you may have.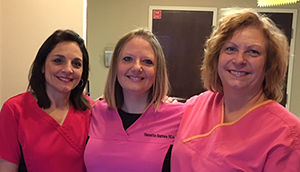 Patient Testimonial

"The staff was helpful, positive and genuinely upbeat and friendly. Mary at the front desk was so accommodating and professional. If you're nervous about seeing a dentist she will definitely make you feel good. As did the doctor! I was anxious when I got there, but as I waited... I became so relaxed I that I almost fell asleep. They are a great team and obviously are happy with what they do and it shows!!"
-Linda P